The academic team
Private Finance Research Center of Jiangxi University of Finance and Economics unveiled
發布時間:2019-06-23 09:17:30
瀏覽次數:
On the morning of June 16, the Private Finance Research Center of Jiangxi University of Finance and Economics officially unveiled its name in the No.2 Report Hall on the first floor of the Tuwen Information Building.Professor Wang Xiaoping, Standing Committee of the Party Committee and Vice-President, attended the unveiling ceremony and delivered a speech.Professor Wang Yang, Dean of Finance College, Director of Private Finance Research Center and Executive Director of Private Finance Research Center, Dr. Li Jinan, delivered speeches respectively.Eight elite experts in private finance, including Xia Jinliang, Vice President and Chief Risk Officer of Societe Generale Securities Co., Ltd., and Alumni Xia, Chief Financial Officer, delivered speeches.More than 150 graduate students from finance college, law school and accounting college participated in this activity.The event was hosted by Ling Aifan, Vice Dean of Finance College.
Guo Haifeng, Deputy Secretary of the Party Committee of the Institute of Finance, read out the document Notice on the Establishment of Private Finance Research Center of Jiangxi University of Finance and Economics at the meeting. Mr. Wang Yang, Dean of Finance College, Director of Private Finance Research Center, Executive Director of Finance Research Center and Alumni Dr. Li Jinan delivered speeches respectively. In his speech, Wang Yang pointed out that the direction of private finance is the second characteristic training direction of the college's financial master. He hoped that the students of the college would cherish the opportunity, seize the time and make great efforts in many aspects. In his speech, Dr. Li Jin'an said that private finance is a big market and has a good future. He hoped that the establishment of private finance research center could help our school's teaching and curriculum reform.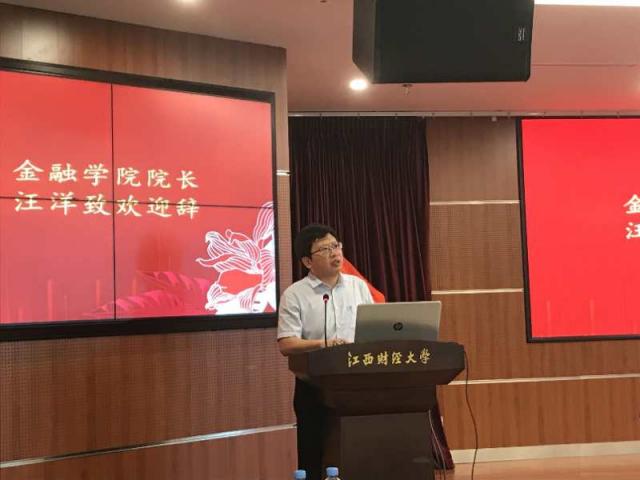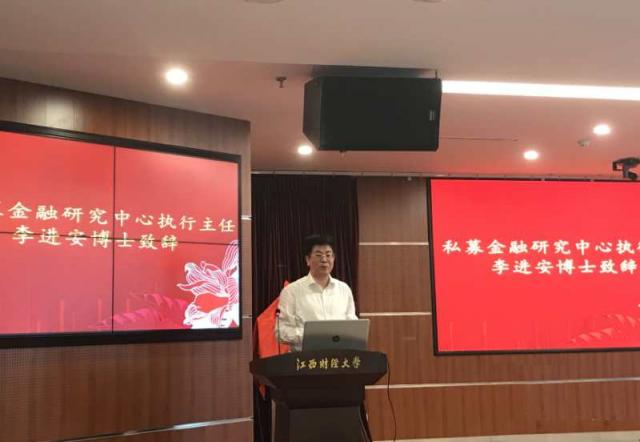 Vice President Wang Xiaoping, President Wang Yang and Dr. Li Jinan jointly unveiled the establishment of the Private Finance Research Center of Jiangxi University of Finance and Economics.On behalf of the school, Vice President Wang Xiaoping issued letters of appointment to the director and deputy director of the Private Finance Research Center.?The Director and Executive Director of the Private Finance Research Center issued certificates of employment for senior researchers to experts both inside and outside the university.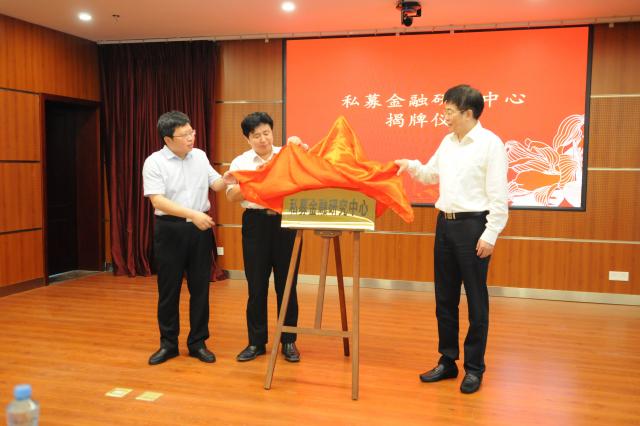 Vice-President Wang Xiaoping delivered a speech in which he said that China's multi-level capital market system has initially formed, and private finance has shown a positive role in promoting the optimization of China's enterprise financing structure, with broad prospects for development.The establishment of Jiangcai Private Finance Research Center is innovative in terms of time, organization and personnel training mode. It is full of the sense of mission of being born at the right time, formed at the right moment and built according to the situation.In order to make the research center bigger and stronger, we need to make concerted efforts in five aspects:Make full use of the resources inside and outside the school, explore a new mode of cooperation between school and enterprise, promote the integration of industry, education and research, build a first-class discipline and team, incubate first-class achievements and services, and strive to transform financial practice into effective educational resources;High standards, high positioning to promote theoretical innovation, personnel training, in the legal supervision and financial science and technology to do great work;Strengthen the integration and integration of private finance and other disciplines, absorb knowledge from other disciplines, and strive for great development in interdisciplinary areas;Utilizing superior resources, we should establish a stable and forward-looking think tank team to provide intellectual support for local economic construction.Focus on building the research center into a national first-class academic exchange platform, more monographs, translations, held annually high-quality academic forum.
At the meeting, alumni Li Jin'an and Xia Jinliang gave keynote speeches entitled Employment Opportunities for Jiang Cai Graduate Students in Private Finance and Opportunities and Challenges for Private Funds.Taking the whole process of 360 companies'listing in the United States and returning to A shares as an example, Dr. Li Jinan analyzed all aspects of a company's reorganization, merger and acquisition through detailed data and event clues, and drew the conclusion that large enterprises are doing finance and most of them are private finance.It is suggested that students should cross-border study, study law and accounting, have a broad career horizon, and use financial knowledge to create wealth.
In his speech, Xia Jinliang pointed out that private equity funds occupy the leading position in all funds, and the industry concentration has gradually increased. The introduction of new rules and regulations has made a significant change in the private equity industry, and the industry will further return to the origin of active investment management.Subsequently, he introduced the opportunities faced by the private fund industry and the risks faced by the private fund industry.He concluded that private equity fund is an indispensable part of China's financial industry, especially asset management industry. It can leverage social capital, promote efficient allocation of resources, support small and medium-sized enterprises, stimulate enterprise entrepreneurship and innovation, focus on strategic emerging industries, optimize industrial layout, aggregate multiple resources, and drive the region. The characteristics of transformation and development.Private equity industry from outbreak to stability, from chaos and rectification, will surely move towards the road of standardized and healthy development.
After the keynote speech, the forum entered the round-table stage, with eight guests from Li Jinan, Executive Director of the Private Finance Research Center, Xiao Jian, Wuhan, Peng Xinqiao, Jia Zhongping, Li Peng, Li Chunlin and Chen Hualing, discussing the theme of The Development and Prospects of Private Finance.The forum focuses on the industry experience of private finance and the postgraduate message of private finance. It talks about the development, prospects, difficulties and opportunities of private finance. The scene is exciting and intense.
In order to promote the effective landing of the industry-university-research integration teaching mode, after the on-campus and off-campus tutors'meeting of the Private Finance Research Center, they had face-to-face and cordial talks with 30 first private finance postgraduates.
All right reserved @ 2013 Jiangxi university of finance and economics finance institure
China Postal Code: 330013 E-mail: jxcdjrxy@jxufe.edu.cn Tel:0791-83816792